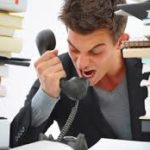 Please be careful whenever working with a new client; even if you garner the client on a freelance website that promises to protect you. When you've worked with good clients for years, it's easy to forget that there are bad clients out there. These are some tips that should help you steer clear of clients who try to take advantage of you.
First, be sure to research the client; even before scheduling a consultation. Make sure they have the business they're referencing. If you don't see their name mentioned anywhere on their website; or if they don't have a website at all, ask for a LinkedIn profile. If they can't produce any evidence that they are a real business client; steer clear. If they have a profile on a freelance website, research the feedback they've received from previous freelancers. If things seem good thus far, then feel free to schedule time to discuss their work or project.
During the meeting make your payment requirements clear. If you're not working on a freelance website, it's best to get a portion of the funds upfront. This shows that the client is serious and has the cash. Always get the terms of the agreement in writing. You can modify a contract that the client presents to you or supply your own contract for the client to sign. If clients wants to work with you on a freelance website; do your research to be sure they have a verified payment method. We were recently hired by clients whom we repeatedly had to remind to fund escrow, before the work would begin. This person funded the escrow on a freelance site, but he complained about everything; all while continuing to give us more work. If you're finding that a client has funded escrow, but is complaining to try to get out of paying, this is not someone with whom you want to deal. Cut your loses early with bad clients. The 80/20 rule typically applies: Meaning most bad clients cause you 80% of frustration while only providing 20% of your revenue. If you have tips or an experience you'd like to share that you feel would help other freelancers avoid bad clients; please do so in the comments.
This is Shilonda Downing, signing out for Virtual Work Team